A new estimate of mobile ad dollar revenue from eMarketer claims that Pandora and Twitter will take in more mobile ad dollars than either Facebook or Apple.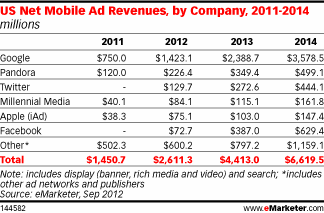 The estimates show Google leading the pack, taking in $1.4 billion in 2012 in mobile ad revenue, or about 55% of the entire market.
The No.2 company, Pandora, has 2012 mobile revenues estimated at $226 million. Apple is estimated at $75 million and Facebook at $72 million.
The numbers contain some contradictions: They don't include an estimate for Velti, one of the major mobile ad players, which has revenues of more than $50 million per quarter (making it bigger than Twitter, by eMarketer's count).
Nor does the report explain how it calculated Facebook's mobile revenue at just $72 million, when the company said on its Q2 earnings call that it made about $500,000 per day from mobile—running at roughly $182 million a year. Even if that run-rate only applied to the second half of 2012, Facebook's mobile ad revenue would be at least $91 million.
Similarly, Millennial Media takes in $33 million per quarter, suggesting annual revenue of at least $120 million—but eMarketer has it down as selling just $84 million this year.
The numbers do underline one major factor, however: That no matter how you slice it, Pandora now owns one of the biggest mobile ad businesses on the planet.
Disclosure: The author owns Facebook stock.
Read more: http://www.businessinsider.com/pandora-and-twitter-take-more-mobile-ad-dollars-than-facebook-or-apple-2012-9#ixzz275ryF4Xt