By Lauren Johnson
October 16, 2012
Marketers are increasingly turning to in-application advertising as the go-to medium to promote products. However, the traditional banner ad is getting stale, forcing brands to think outside the box with reward-based models that reward consumers for interacting with content in their favorite mobile apps.
Skittles, Pepsi and American Family Insurance are all brands that have recently used reward-based advertising to target segmented groups of users. All advertising is ultimately rewards-based with the exchange as access to content – however mobile reward-based advertising is more overt than marketers might be used to, according to some experts.
"Predicting how a consumer will respond to a mobile ad is difficult," said Dave Martin, senior vice president of media at Ignited, El Segundo, CA.
"Just like all other forms of advertising, consumers would prefer never to be interrupted on their phones or tablets with ads," he said. Consumers generally view ads as a necessary evil, and in a personal environment like a handset or tablet, you can expect an extra level of resistance to interruptive ad formats. However, smart brands who create advertising that is extremely relevant, transparent and valuable to consumers will find that mobile can be extremely effective for both brand and direct advertising.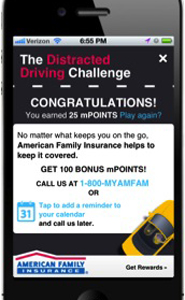 Mobile rewards
Reward-based ads appear in applications that consumers tend to spend longer periods of time in, such as entertainment or games.
In return for consuming content, users are served ads. For instance, when a consumer completes a level inside a game, they might be served an ad.
Similar to all other advertising, reward-based models come with risks.
Per Mr. Martin, one of the biggest risks with reward-based advertising is that the audience that is trying to be reached in the apps becomes more defined by the reward than the targeting parameters set in place.
"It's also important to remember that innovation makes advertising more tolerable to consumers," Mr. Martin said.
"They'll give more of their time and attention to something they've never seen or done before than to the same things they've seen for years," he said. An overt value proposition — offering a reward for engagement — can work well if the reward and the engagement are thoughtful and innovative.
The biggest challenge for marketers is going to be letting go of the traditional advertising parameters that they've grown up with.  At the end of the day, what you do with a consumer's time and attention is much more important than how you got it."
New measurements
Click-through rates remain one of the primary metrics that marketers use to gauge the success of banner ads. However, a simple click does not give substantial insight into how a consumer interacted with an ad.
Recent results from reward-based advertising are promising for marketers looking to move beyond the click-through rate.
For instance, initial results from a recent campaign with American Family Insurance found that 73 percent of users chose to interact with the opt-in ad format.
American Family Insurance partnered with SessionM on the campaign. One of the keys to the results is the opt-in format of the ads. Unlike banner ads that take over a smartphone or tablet's screen, users had the choice of interacting with a piece of content.
The ad also included a click-to-call feature that generated a 17 percent click-through rate, which is significantly higher than the typical banner ad that generates an approximately one percent click-through rate, according to Lars Albright, cofounder/CEO of SessionM, Boston.
"SessionM believes that consumers will be more likely to interact with advertising that is contextually relevant to app content and creates two-way value for mobile consumers who are already facing multiple demands for their time and attention," Mr. Albright said. "By doing so, SessionM is trying to change mobile advertising to be more invitational versus invasive — a marketing shift from advertiser push to consumer pull."
Context is key
The focus on relevancy and user context could potentially also give the reward-based mobile advertising model a leg up on traditional banner ads.
Banner ads are often plastered across a variety of apps and sites, which are often not relevant to the type of content that users are interacting with.
Personalization and relevancy is undoubtedly the future of mobile advertising, meaning that in order for publishers to monetize content, they must find a way to serve ads to consumers in a way that is non-intrusive and custom to an app's content.
For instance, Pepsi's Propel Zero Water worked with Kiipearlier this year on a campaign to drive awareness of its product. The brand ran reward-based ads in mobile apps such as Nexercise and MapMyRun to reward consumers for reaching goals and interacting with content.
The campaign increased brand awareness by 28 percent. Additionally, the campaign generated a 51 percent purchase intent increase and approximately 72 percent of users said that they would consider Propel Zero Water the next time that they bought enhanced water.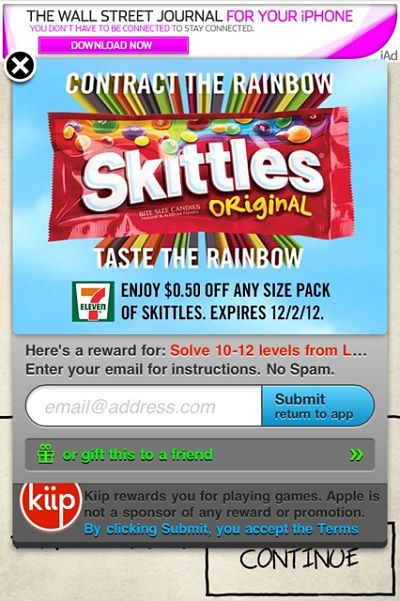 A Kiip campaign with Skittles
Skittles is also working with Kiip on a campaign inside the Doodle Fit Lite app that rewards users who pass levels of the game with a coupon that can redeemed on a pack of Skittles at 7-Eleven locations via a time-sensitive bar code that is sent through email and redeemed at the point-of-sale.
"I was fascinated by the idea of serendipity while developing Kiip's model," said Brian Wong, founder/CEO of Kiip, San Francisco.
"In mobile, I observed consumers had developed such an adversarial relationship with advertising that they were paying for it to go away in their games and apps," he said. "I wanted to build a platform that would reverse that relationship, and eventually I realized that allowing serendipity to find its way into mobile advertising would do just that.
By reaching consumers in these positive emotionally-charged moments, brands can finally have that long-sought after affinity."
Final Take
Lauren Johnson is associate reporter on Mobile Marketer, New York
Source: http://www.mobilemarketer.com/cms/news/advertising/14000.html