Date: 21st September 2012
Christophor Rick  |  21 Sep 2012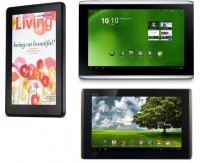 Rhythm put out their Q2 2012 Insights report which looks at advertising that's delivered to tablets and mobiles and they found some interesting things in regards to tablets, in my opinion. It seems that many tablets commonly have more than one user, so if you're doing targeting on those platforms, you might want to consider a retargeting strategy to be sure you optimize your video ad campaign for all the users of the tablet.
First off, Rhythm's numbers might not line up all proper like for the whole industry. As with all reports of this nature they should be taken as a snapshot of a small section of the industry. Their research was done as an on-device survey and covered 377 US mobile and tablet users, and only sent via Rhythm's premium media properties, for this graphic. I have to believe that this is actually talking about recall of the ad as opposed to just conscious acknowledgment of the advertisement.
Even though we might not pay attention to all the ads we see, they will usually register on some conscious level. It's sort of a common sense statement though. If you preempt content with an ad an the user waits through the ad to get to the content, don't you think we've "noticed" it was there? The same with a mid-roll ad, because we're still waiting for the rest of the content. So in-stream seems a pretty good format for those video ad campaigns.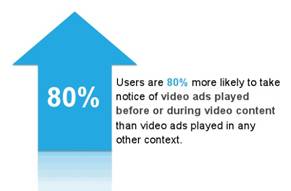 Tablets as Video Viewing Devices
The other interesting stuff in their Insights report was the tablet-based information. For example, more than 50% of tablets (in their study which surveyed 410 tablet users) have multiple users. 49% of them have 2-3 users in fact (44% have a single user). With n=410 for the survey and say 30 million tablets, that makes a margin of error around 4.8%.
So even though there might be just 30 million tablets, the number of users is closer to 56 million. I took 30 million, multiplied by percentage/100 and then multiplied by the number of users from the chart. For 4 or more, I just used four. It comes out to almost twice as many users as tablets.
So, remember that whole retargeting thing I mentioned before? It might be a good thing to do since you may not hit the main demographic the first time round. I suspect that the households with 3 or more users per tablet are families which means that you have a 33-50% chance of catching an adult with your ad there. Granted, that is only 24% of the tablets roughly. Now remember, these numbers are only for Rhythm and I'm using them to extrapolate out to the industry as a whole, so they are probably not extremely accurate.
Tablet Viewing Trends
In terms of video viewing itself, 64% said they watch a video one or more times a week. In fact, 58% said more than once a week. 22% said they do it less than once a month, which means they must be app users more than they are video viewers. To reach them you might need to get your video ads into apps that are ad-supported (which are quite popular as well according to the research).
The numbers are quite favorable for digital video viewing though. Video viewing is done mostly through Wi-fi, 70% in fact meaning that just 30% are viewing videos on the go. I have to wonder if that's due to data plan bandwidth metering and restrictions or if it's due to slower speeds meaning lower quality. A year ago, it was just 51%.
So again, extrapolating out to the industry, which will lose some accuracy, it seems like it's worth it to get your videos in HD because, with Wi-fi, there's generally going to be bandwidth for the higher quality video. That means you could either use an adaptive bitrate format which will give those tablet users the best quality at all times or you could let them manually choose the quality of the video they want to watch.
There's a lot more to the quarterly report than I've covered here, but it's mostly Rhythm specific and talks about apps so I didn't cover it. If you want the whole thing head over to their reports pageand download it.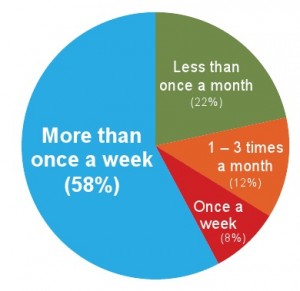 Source: Tips for Optimizing Video Ad Campaigns on Tablets http://www.reelseo.com/tips-optimizing-video-ad-campaigns-tablets/#ixzz2746bPIcn
©2012 ReelSEO